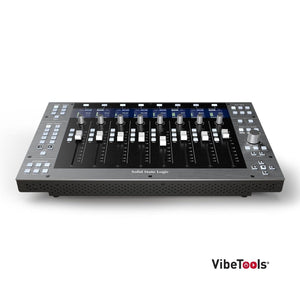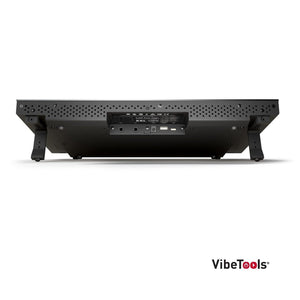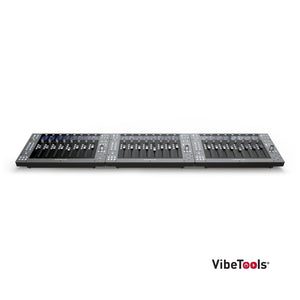 Solid State Logic UF8 Advanced DAW Controller
Advanced Workflow UF8 offers intuitive features that are developed from a true understanding of production workflow; Simultaneous control of ...
Advanced Workflow

UF8 offers intuitive features that are developed from a true understanding of production workflow; Simultaneous control of multiple DAWs, multi-purpose Master Encoder for DAW timeline navigation, track banking and mouse wheel emulation for precision, hands-on control.
Dedicated automation section and dual-purpose Selection Keys permit rapid access to select functions; solo and mute clearing in Pro Tools® and Logic Pro X®. New CHANNEL and PLUG-IN control modes provide enhanced workflows for those using UF8 with Pro Tools® - easily access your sends and plug-ins without slowing down your creativity.

Features

• High-quality 100 mm touch sensitive faders
• High-resolution colour displays
• All metal enclosure, finished with a brushed, anodised top plate
• 8 Endless Rotary Encoders
• Custom Workflows with 43 assignable keys per UF8; 5 banks of 8 User Keys + 3 Quick Keys
• Intelligent Multi-Purpose CHANNEL Encoder
• Mouse Scroll Emulation; control of any plug-in parameter you hover the mouse over with absolute precision
• Hi-Speed USB connectivity

100 mm Touch-Sensitive Faders

Quality feel, engineered response and a volume curve that keeps engineers in the sweet spot. Anyone who has driven an SSL console knows not all faders are equal.

Hi-Resolution Colour Displays

Constant, clear visual feedback that only a full colour, high resolution display can provide. Key track information including level, pan, routing and names can be found here, keeping you focused on what matters.

8 Endless Rotary Encoders

V-POT technology and workflow as found in SSL AWS and Duality consoles. Seamlessly jump between parameters whist maintaining absolute control.

Intelligent CHANNEL Encoder

Featuring mouse scroll emulation, control any plug-in parameter you hover the mouse over with precision.

Custom Workflows

Configure essential shortcuts and custom macros for total session control via the 43 assignable, backlit user keys found on UF8.

Human Engineering

For perfect positioning, each UF8 includes a pair of adjustable stands allowing for six different angles of elevation for user defined placement. 19" rack mount kits are also available.

And if you don't love me now...

Chain multiple UF8's together to create your unique mixing system; build your perfect 16-24 channel music creation hub, or connect 4 UF8's within a single system to create a 32-channel controller ideal for large post production or mixing sessions. (Image shows 3 units / 24 channel system)


The rear panel of UF8 features a USB 'C' type port for easy connection to the host computer ('C' to 'C' and 'C' to 'A' cables included with UF8), two jack sockets offering standard foot-switch connections and a socket for UF8's auto ranging external PSU. The USB 'A' port on UF8 can be used to daisy-chain USB communication between UF8s, or, it can be used to plug in any USB dongles you have.

SSL 360° APP

SSL 360° is the command centre and brains behind UF8. It's a cross-platform application for Mac and Windows. Installing is quick and easy. Once installed SSL 360° allows you to configure your UF8(s) for your DAW, customise the User Keys and save/load profiles. SSL 360° manages software and firmware updates for you. You can find SSL 360° within the 'Documents & Downloads' tab on this page or the downloads page and select 'SSL UF8' from the drop-down list.

SSL Native Plug-in Bundle

Full licences of Vocalstrip 2 and Drumstrip plug-ins, SSL Native's highly regarded vocal (it's also great for speech / VO work) and percussion production tools are bundled with UF8. Giving you a range of professional quality processors suited to music, audio and post-production tasks.

Open DAW Policy

UF8 integrates with all major DAWs and includes workflow ready templates for Ableton® Live™, Cubase™, Nuendo™, Pro Tools®, Logic Pro X® and Studio One®. Many producers and engineers prefer to split their creative process across multiple DAWs. UF8 is uniquely flexible and promotes SSL's Open DAW Policy - Control 3 different DAWs simultaneously and keep your production and mixdown process agile.