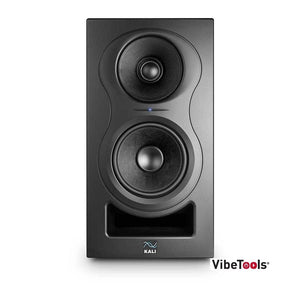 Kali Audio IN-5 Reference Studio Monitors (Pair)
Accuracy The single most important aspect of a studio monitor is its accuracy. A good studio monitor should present the material it's playing faith...
Accuracy
Clarity
The IN-Series monitors have very low distortion. This is the result of unburdening both the woofer and the tweeter, so that both are doing less work; the tweeter is only focused on high frequencies, and the woofer only has to worry about bass.
Taking up the space in between in the hero of the IN-Series: the 4-Inch, profile-optimized midrange driver. This driver has a lot of work to do. In addition to reproducing midrange frequencies, it also acts as the waveguide for the tweeter. This means that the shape needed to be precisely engineered to provide an ideal dispersion characteristic for the tweeter.
It also means that the midrange needs to stay still. In many other co-axial or concentric systems, high excursion from the larger driver causes intermodulation distortion, and degrades the accuracy of the system. The midrange on the IN-Series is limited to less than 1 millimeter peak-to-peak excursion, making it acoustically stationary while still providing midrange to keep up with the powerful woofer and tweeter.